Explore Mt. Olympus' Indoor Waterpark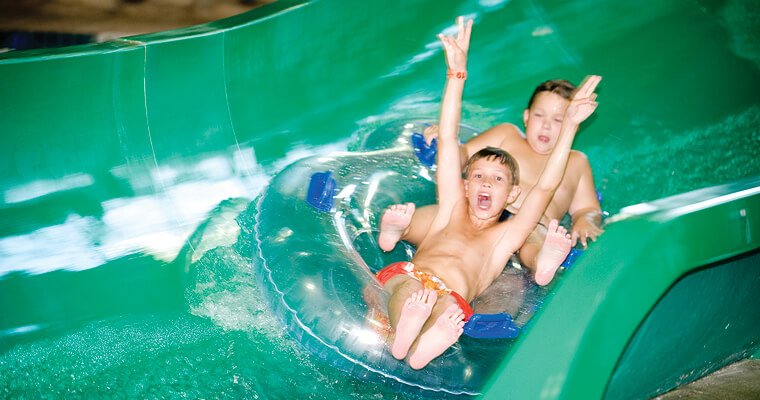 | February 24, 2015
Just because the temperature outside is below freezing doesn't mean the fun has to stop. As you venture outside, your body gets so chilly that the thought of a hot tub is the only thing keeping you from freezing to the ground. At Mt. Olympus Theme Park & Water Park, it's out with the cold and into the warm.
Mt. Olympus Theme Park & Water Park is your year-round destination for fun. Wash away those winter blue's and getaway to Mt. Olympus, where you'll have yourself a great time at their always tropical, Indoor Water Park as well as their thrilling Indoor Theme Park. Mt. Olympus is the only Waterpark Resort in Wisconsin Dells that includes free access to their Indoor Theme Park with stay! The Indoor Theme Park features a go-kart track, arcade, tea cup ride, bumper cars, lazer tag, spring ride, an alien ball pit, and much more! Once you've gotten your fix at the Theme Park, head on over to the Indoor Waterpark, where you splash and explore the day away.
If you're feeling lazy, yet adventurous, drift among the Mayan Raging River, where rainforest scenery, Mayan masks, and ruins mark your voyage around the waterpark.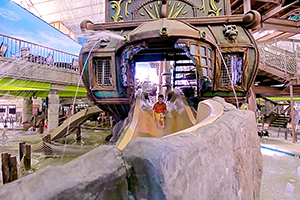 Explore a beached 35-foot long pirate ship complete with tattered sails, tunnels, and five water slides, while waterspouts and geysers entertain the little ones for hours and hours within their Hispaniola Bay kiddie area.
Anaconda and Boa, the two Mystical Tower tube slides, wrap themselves around you and your friend as they take you for a slithery waterslide ride you'll never forget!
Climb up in the canopy of the Banyan Tree House, then grab an inner tube and a friend and take a venomous plunge down the tree house's water slides for a splash finish!
Ready for a change of pace? Try wading through the relaxing waters of our Warriors Swim Pool! To make swimming at Mt. Olympus a fun experience for everyone, Mt. Olympus has provided a handicapped accessible lift so everyone can enjoy the waterpark.
If you're tired out from all of the activity and a day full of fun, take a break and collect your thoughts in the Sacred Well Whirlpool or Jaguar Hot Tub. Feel the soothing waters and listen to the calming sounds. Just sit back and relax, you deserve it.
As always, when you stay at Mt. Olympus Theme Park & Water Park, tickets to their Parks are always free! Make your reservation today!