Stay Lucky Year Round at Mt. Olympus Resorts
By Vector & Ink • March 17, 2015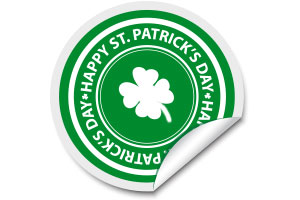 Stay lucky throughout the entire year when you stay at Mt. Olympus Resorts. The symbol of luck on St. Patrick's Day is a 4-leaf clover, there are 4 seasons in a year, and at Mt. Olympus Theme Park & Water Park, there are 4 great parks to explore. Is this just mere coincidence? Decide for yourself and getaway to Mt. Olympus Resorts anytime of the year and enjoy the time of your life!
Springtime is upon us, and do you know what that means? Spring Break! Bring the family or bring your friends and save up to $120 per night this Spring Break when you book anytime at Mt. Olympus Theme Park & Water Park. Playing in the Parthenon Indoor Theme Park & splashing in Medusa's Indoor Waterpark are a perfect way to relax this Spring. Select outdoor rides at Zeus' Outdoor Theme Park will be open this Spring Break as the weather permits.
As summertime approaches, it's time for some outdoor adventure. Poseidon's Water Kingdom is packed with a large variety of waterslides, lazy rivers, the Lost City of Atlantis kids play area, and one of the world's largest wave pools, Poseidon's Rage, with waves towering up to 9 feet high! Zeus' Outdoor Theme Park is also a huge highlight of the summertime season. The numerous Go-Kart tracks, roller coasters, and other rides make the Outdoor Theme Park the perfect Playground for adventure seekers of all ages. During the summer, Mt. Olympus Resorts' guests can experience "Night at the Park" which includes 3 extra hours of playtime on select rides and attractions after the park closes.
When autumn comes around, the fun doesn't stop. As kids go back to school, the Indoor Parks keep on providing hours upon hours of family friendly fun. Through the summer and into the fall months, free premier golfing is included with your visit to Mt. Olympus Theme Park & Water Park.
As the weather gets colder and winter approaches, Mt. Olympus becomes the perfect destination for a holiday getaway or family escape. Besides free access to their Indoor Water & Theme Parks, Mt. Olympus Resorts is proud to offer free tubing, skiing, & snowboarding to all of their guests.
No matter what time of the year it is, Mt. Olympus Theme Park & Water Park has all of the activities and attractions you need to ensure you get the most out of your vacation. With all of the fun parks to explore at Mt. Olympus, it's time to start planning your trip and head on over to: https://www.mtolympuspark.com/book-now