Mt. Olympus History
Click through the slides below to learn about the History of Mt. Olympus Water & Theme Parks!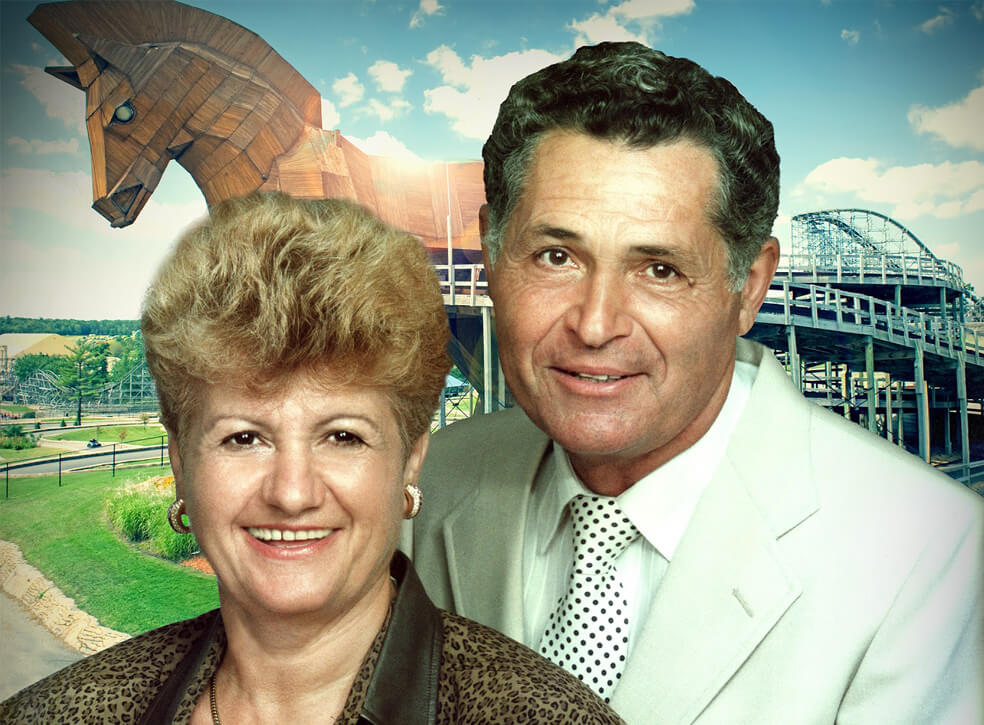 Welcome to Demetrios' Dream
Demetrios "Jim" Laskaris will always be remembered by his friends and family as "Big Chief". He came to America in 1951 with nothing more than his tremendous mind, great determination and a vision. With his wife Fotoula and his children at his side, he took an idea and built an empire. This park is here today because of Jim's innovative spirit, his love of family and his desire to share with his community. We hope you enjoy "Big Chief's" Mt. Olympus as much as he enjoyed building it for you.
1 of 26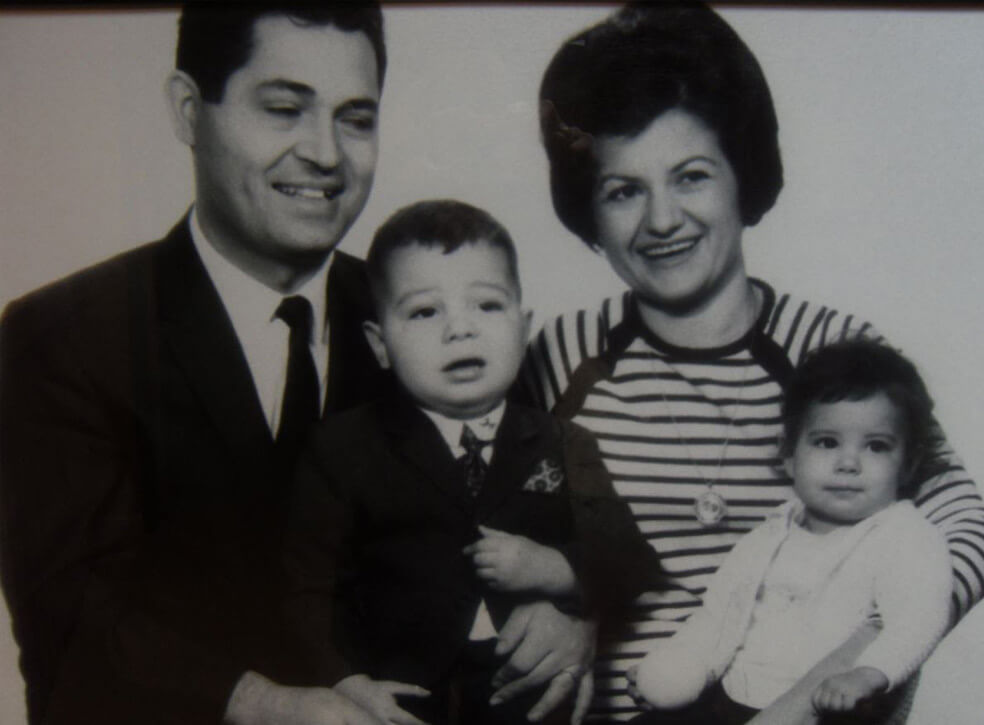 The Beginning, 1951
Demetrios "Jim" Laskaris was born in Katsarou, Messinias, Greece in the 1937. When Jim was 13 years old he immigrated to the United States speaking only Greek. Jim spent 4 years in the United States Navy before moving to Chicago and starting a family with his wife Fotoula. Together they had two children, Penelope (Penny) and Nickolaos (Nick). Jim and Fotoula operated 2 Hot Dog stands in Chicago, one was named "Big Nick's." Although the business was successful, their neighborhood was not ideal for raising a family.
2 of 26
Big Chief Hot Dog Stand
In 1970, Jim and Fotoula moved their family to Wisconsin Dells and opened a hot dog joint named "Big Chief." Unfortunately, the restaurant was not doing well, so they began making plans to close down their business and move back to Chicago. As movers were loading their belongings onto a trailer, a sock rolled out beneath Fotoula's sewing desk. That sock had $700 stuffed inside of it and was enough for Jim and Fotoula to cancel their move to Chicago. They invested the money back into their business and gave it another shot. (The significance of the sewing machine is so great that Nick had kept it in his office for many years to remind him of humble beginnings.)
3 of 26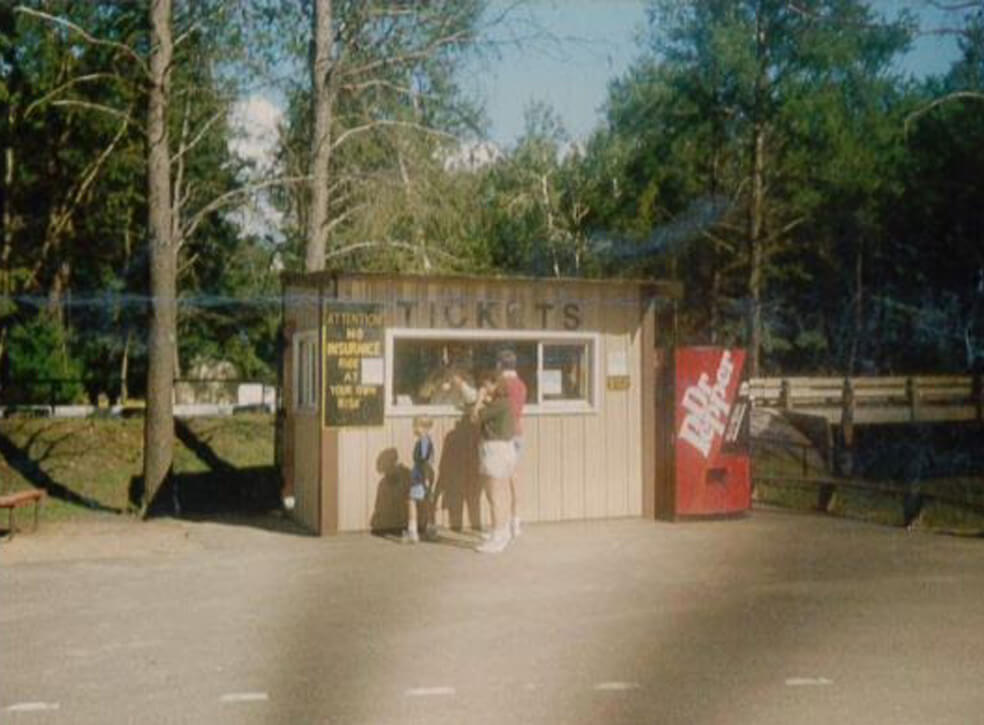 Goofy Karts
With the money from Fotoula's sewing machine drawer, the Laskaris family opened their first go-kart track named Goofy Karts. Nick and Penny began working at the family business. Penny as a Ticket Seller and Nick with his father building and maintaining the go-karts.
4 of 26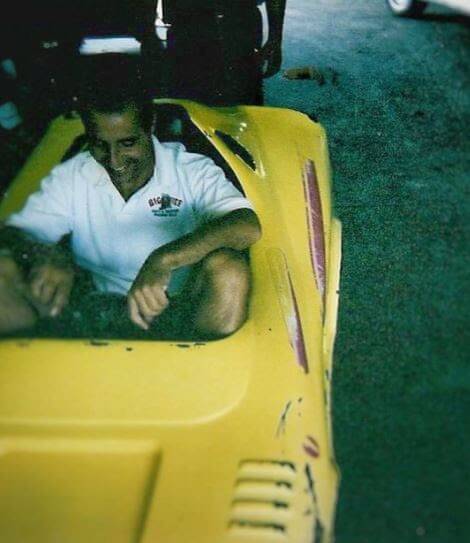 Go Kart Obsession
This was the beginning of Nick's lifelong adventure with go-karts. Over time, he went from go-kart mechanic to engineer and designer. The go-kart bodies and frames that are used at Mt. Olympus today are the same ones that Nick had designed all those years ago!
5 of 26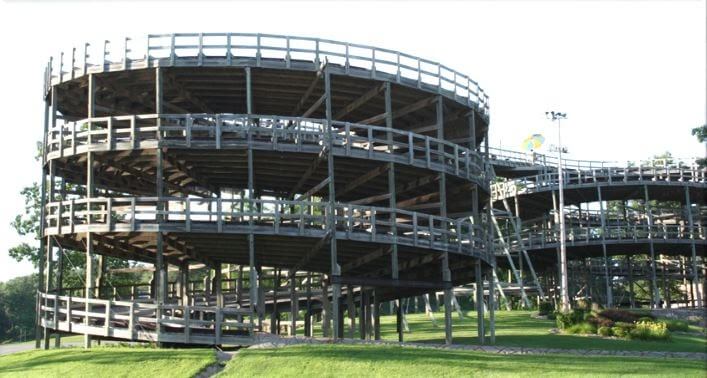 Multi Layer Track Innovation
In 1980, Nick and his father Jim designed the world's first multi-level go-kart tracks. Similar designs are now used worldwide.
6 of 26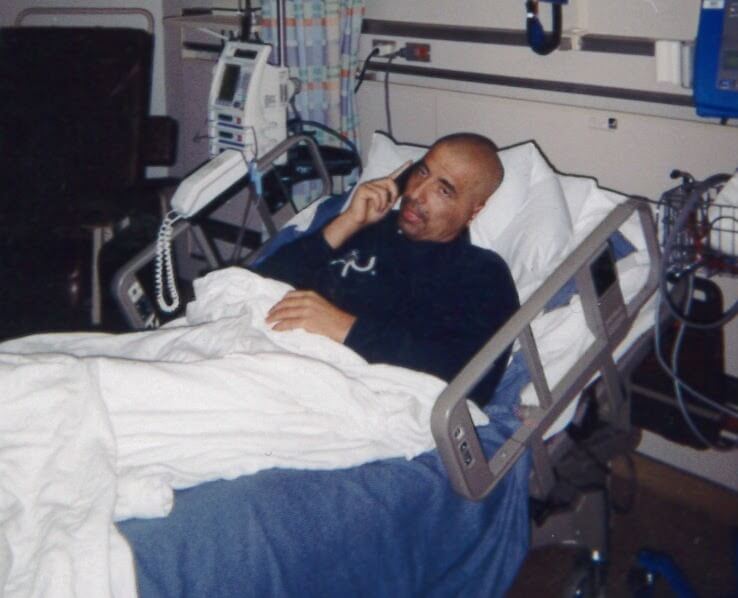 Nick's First Battle With Cancer 1991
While the family business was growing exponentially, Nick was about to have the biggest fight of his life. Just 24 years old, Nick was diagnosed with brain cancer when a 5-centimeter growth was found inside his brain. Mayo Clinic deemed the infiltrated tumor to be inoperable and estimated that Nick was left with only three months to live.
Always an experimenter and risk-taker, Nick entered a protocol study. "Because of his willingness to be the first to try this treatment, we've basically established that the only long-term survivors of this rare cancer are those who receive high-dose radiation and experimental Chemo Therapy," Dr. Buckner says.
The treatment was a success and Nick began working harder than ever. He believes that his love and passion for his business helped him to survive cancer and beat the odds.
7 of 26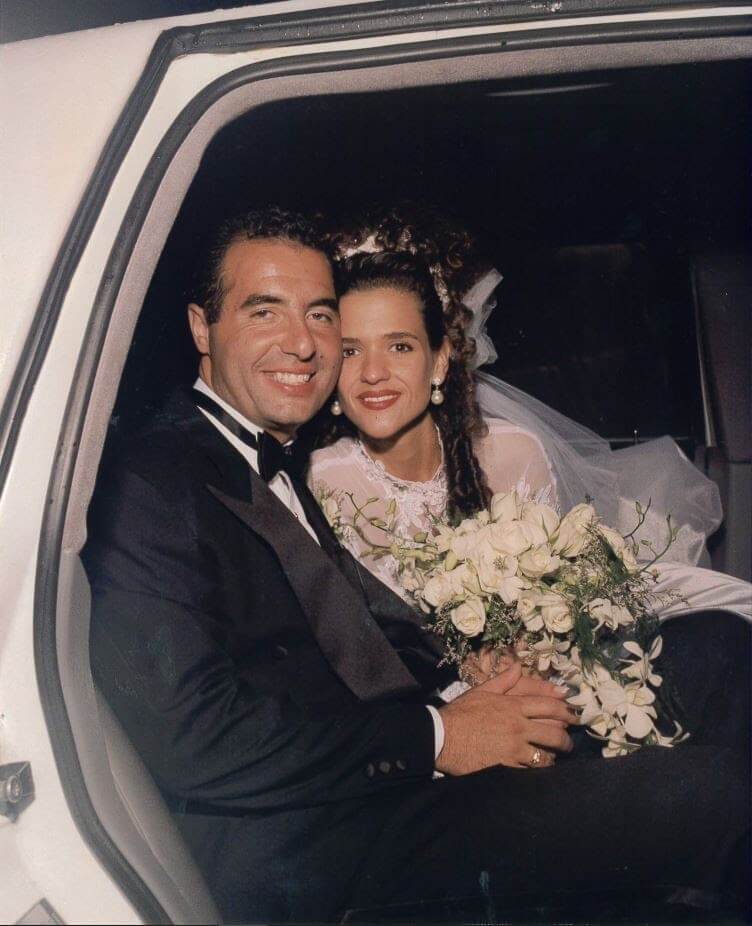 Nick & Eva
In 1995 Nick married the love of his life – Eva.
"She's Greek. She's beautiful and someone I could talk to," Nick says. "I wanted someone who would be my partner."
It only took Eva one date to figure out what she was getting into with Nick. She expected he'd try to impress her by taking her to an expensive restaurant, so she dressed to the hilt — he took her to Waffle House.
"Oh, he made me laugh!" Eva says. "He still does. There's never a dull moment with Nick. There's just no one like him."
Eva was passionate about the park and wanted to learn every aspect of the business by working positions at the ticket booth, operating rides, cleaning the park, and even working in maintenance!
Eva had big dreams for the future of the company and worked hard to help the business grow. With her knowledge of retail marketing and merchandising, she successfully introduced many retail stores and coffee shops throughout the Park.
8 of 26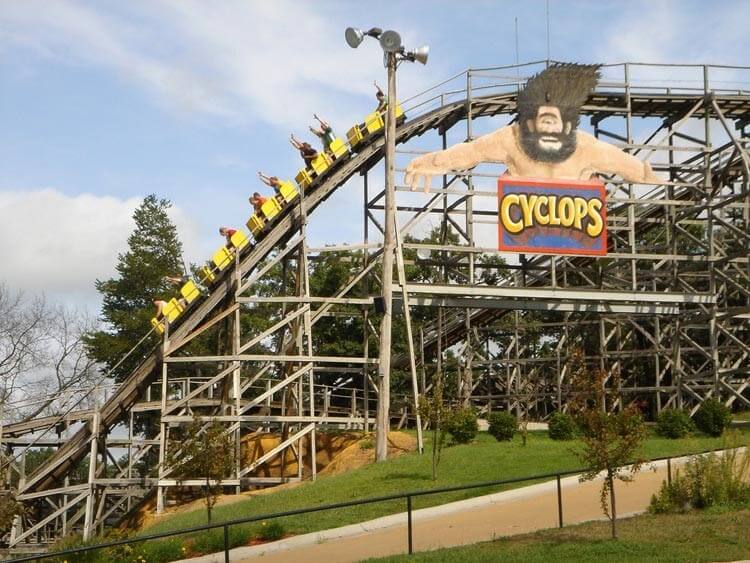 Cyclops Built 1995
That very same year, the Laskaris family built their very first roller coaster, Cyclops and the business name was changed to Big Chief Karts & Coasters.
9 of 26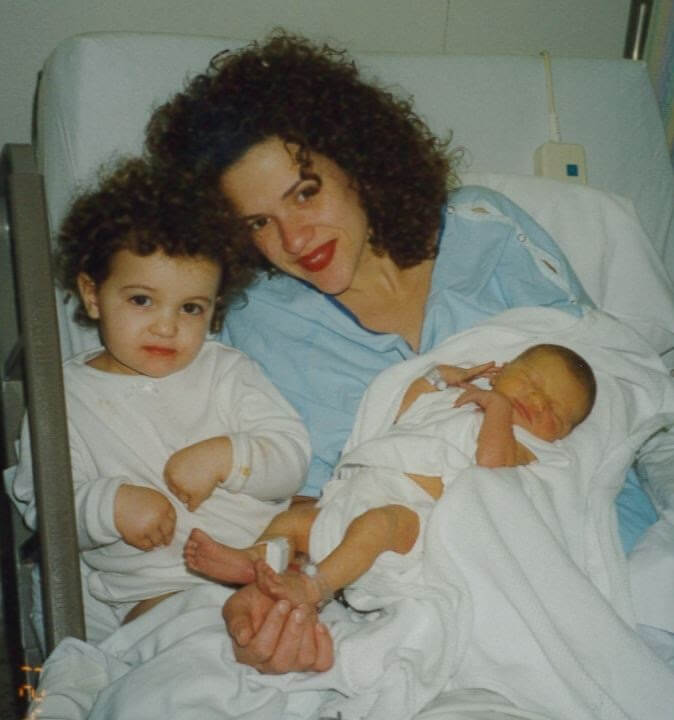 Fotini and Maria
Between 1996-1999, Nick and Eva had two daughters – Fotini Laskaris (1996) and Maria (1999).
During this time an additional 27 acres of property was purchased along the Wisconsin Dells Parkway, known as the Wisconsin Dells "strip". In 1996 the second roller coaster was born, Pegasus. The following year in 1997, Zeus was built.
10 of 26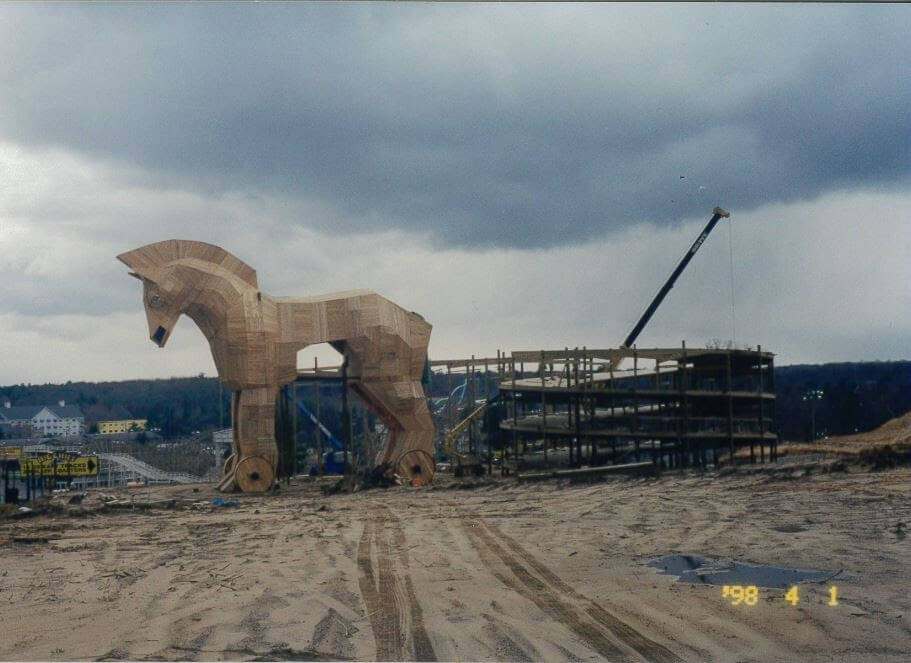 The Trojan Horse Go-Kart Track
In 1997 Nick gathered a small crew of park employees and presented a tiny wooden horse that he purchased in Las Vegas while visiting the Caesars Palace. Together they proceeded to build a 65 foot tall wooden replica, complete with go kart tracks that climb up and through the hollow belly of the horse.
This horse has become an "Icon" of the Dells and marks the border between Wisconsin Dells and Lake Delton.
11 of 26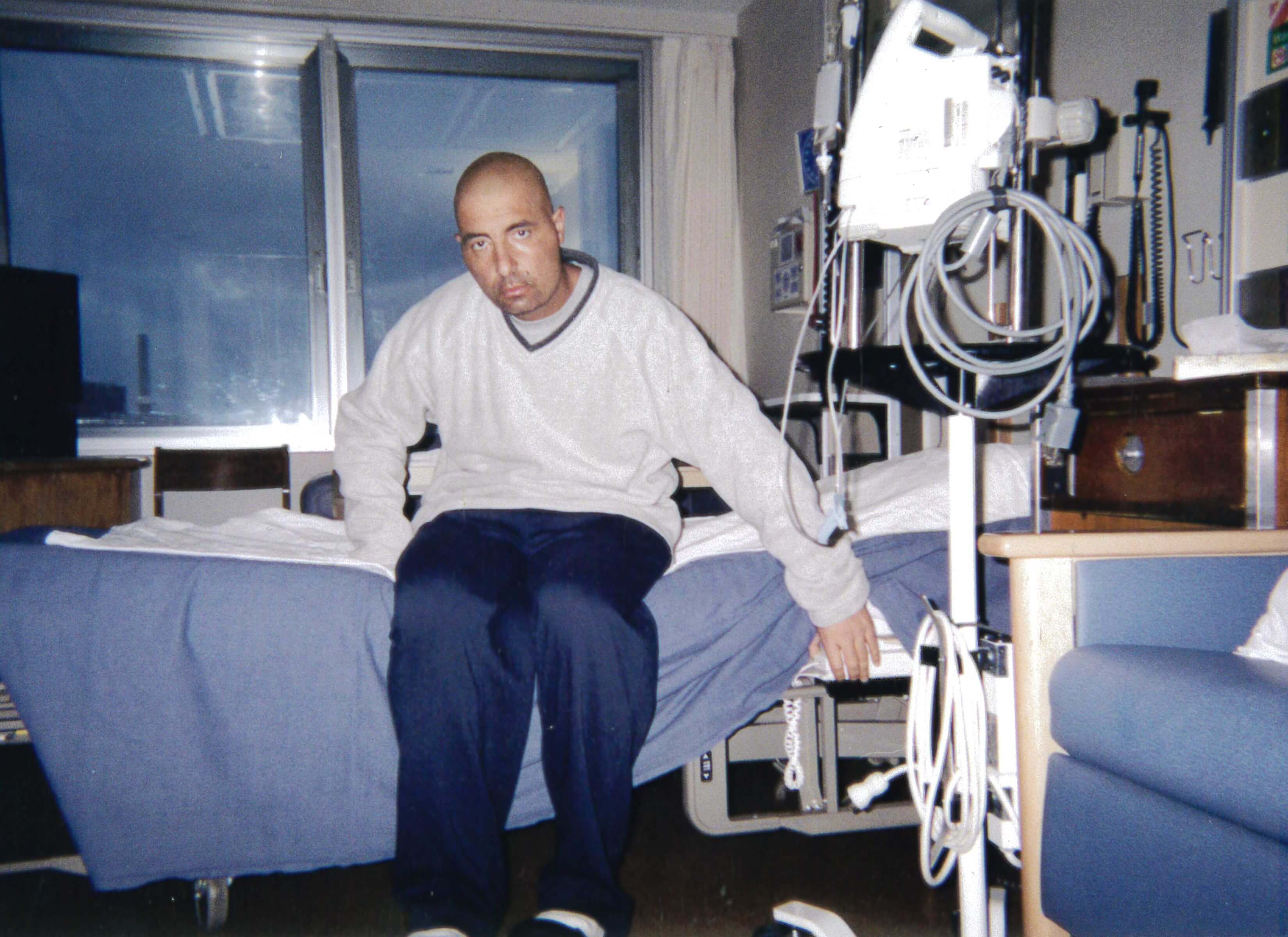 Nick's Second Battle with Cancer
During July 4th weekend in 2001, Nick experienced multiple seizures and was med-flighted back to Mayo Clinic where he was again diagnosed with brain cancer. This episode was more difficult than the first and Nick was advised by his doctors to undergo a risky tandem stem cell transplant. With Eva by his side, they spent the following 11 months at Mayo Clinic. Nick's bravery saved more than his own life.
"Dr. Buckner said to me, "Nick, we can give you ordinary therapy which would give you two to four years, or we can go for a cure,'" Nick says. "I went for the cure — which almost killed me."
12 of 26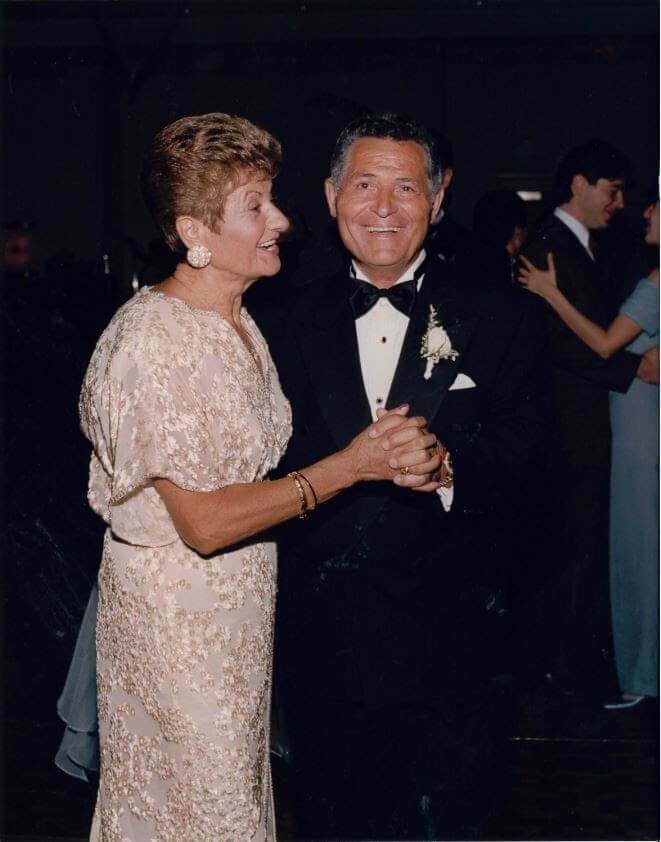 Jim Passes Away
Demetrios "Jim" Laskaris 1937-2003
A smile that is etched in our minds
A kindness that overwhelmed us
A warmth that embraced us
His love and compassion will illuminate our hearts forever.
 Thanksgiving Day of 2003, Jim Laskaris passed away. The family lost a husband, father, grandfather, friend, and an incredible business man. Nick and Jim always wanted to do something unique, big, and different that would set them apart from the competitors. What Nick would do next, was integral for the future of his company as it exists today!
13 of 26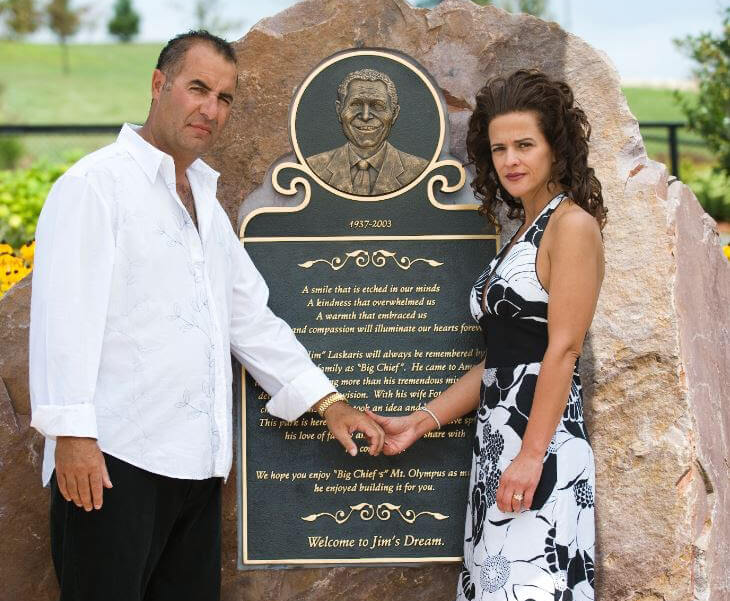 Expansion
Following his father's death, Nick & Eva immediately began to think of something bold to do in Jim's memory. "Dad & I always wanted to do something different, something unique to stand out. Since I was a little boy, my intention was always to have a theme park." To continue his father's legacy, Big Chief underwent changes to make way for the largest expansion in it's history. The Laskaris family began incorporating the Greek theme for which we are known for today.
Nick & Eva Laskaris with Jim's memorial inside the Theme Park at Mt. Olympus.
14 of 26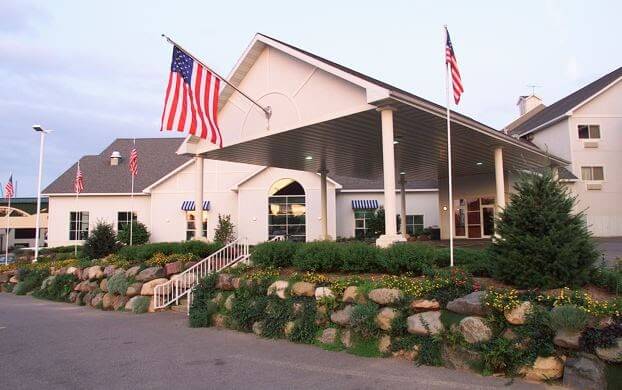 Merging with Treasure Island
Nick and his father dreamed of one day owning the only theme park in Wisconsin Dells. Nick and Eva made that dream a reality in 2004 thanks to a partnership with the Mattei family, whom owned the neighboring Treasure Island Resort. Together they merged Treasure Island's indoor and outdoor water parks with Mt. Olympus' theme parks, creating what is known today as Mt. Olympus Water & Theme Park. The merger was very successful for the Laskaris family, as now their guests could enjoy go-karts, roller coasters, and spend the night in a hotel room on property.
15 of 26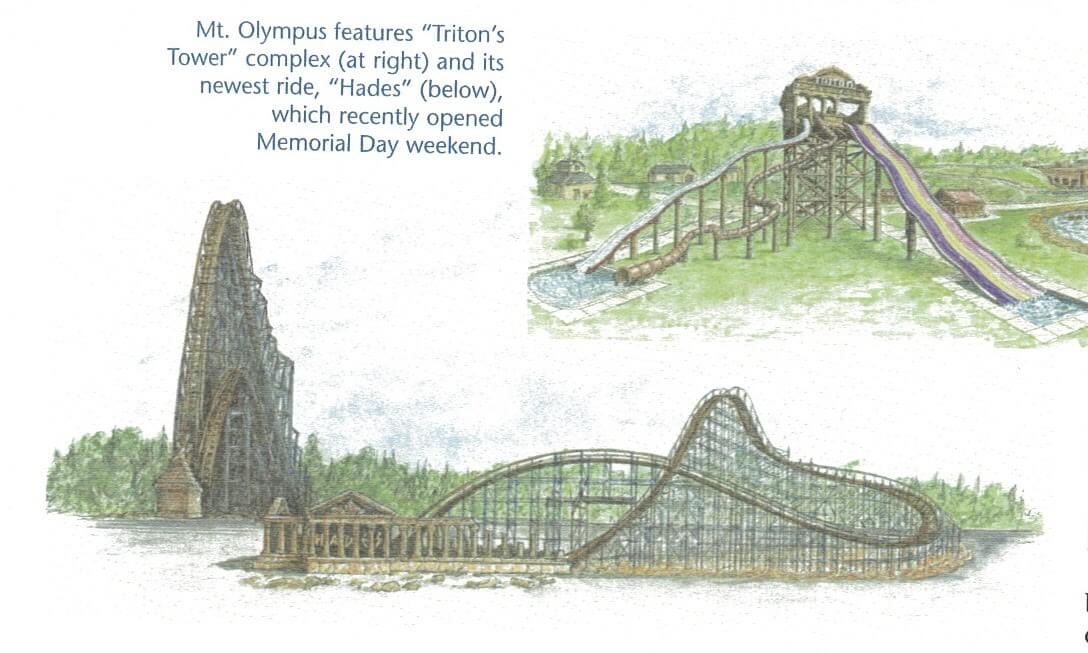 Hades, The World's First Underground Roller Coaster
After their successful partnership with the Mattei family, the Laskaris' family confidently invested another $10 million in new rides including the record setting Hades wooden coaster – the world's first underground roller coaster, and the Triton Water-slide complex. Both were added to help create a park that now spans over 200 acres.
16 of 26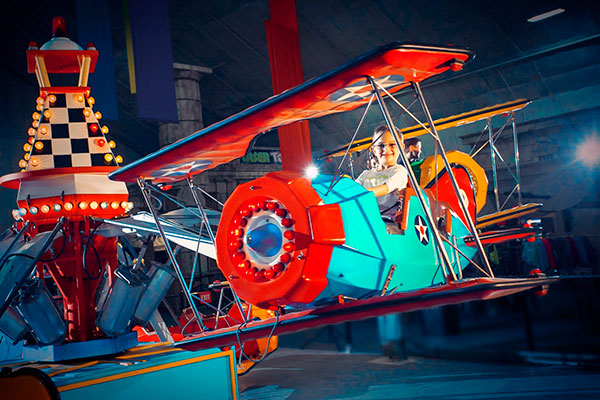 The Parthenon
In 2006 the Laskaris family opened "The Parthenon" – the first indoor theme park in the Wisconsin Dells area. In 2007, Nick and Eva Laskaris purchased the Treasure Island Resort, ending their partnership with the Mattei family and adding 356 rooms and vacation units. The Mattei's continue to be a part of the Mt. Olympus partnership today and own the food and beverage outlets located on Mt. Olympus property.
17 of 26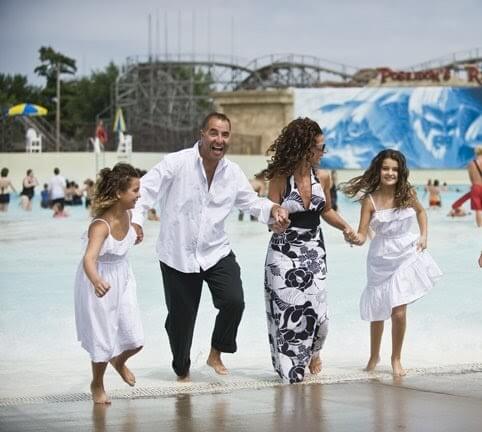 Poseidon's Rage
After the purchase of Treasure Island in 2007, the Laskaris Family invested more than $7 million with the addition of Poseidon's Rage Wave Pool. One of the largest in the world, Poseidon's Rage boasts towering 9 foot waves!
18 of 26
2008, Nick's mother passes away
5 years after the death of his father, Nick's mother Fotoula lost her 10 year battle with bone cancer. The Laskaris family remembers Fotoula as a humorous, hard working and dedicated woman who passed down her sense of humor to her children, Nick and Penny.
19 of 26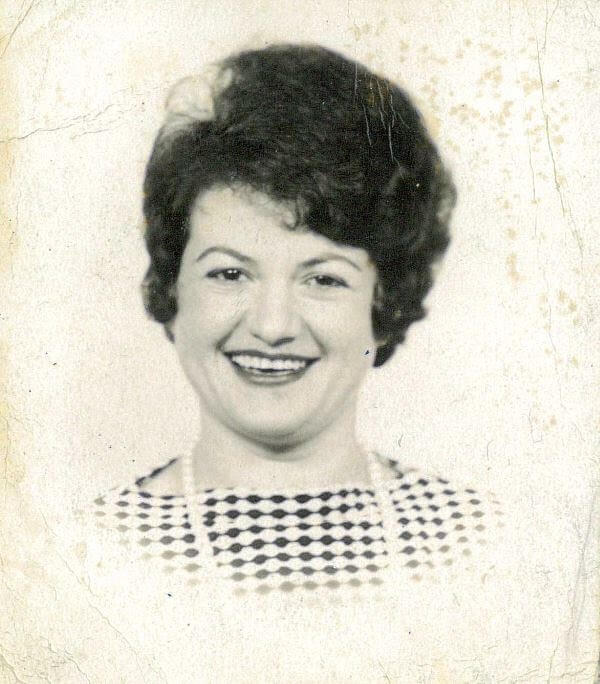 In Loving Memory of Fotoula
The money that Fotoula saved during her lifetime helped to make this dream a reality.
20 of 26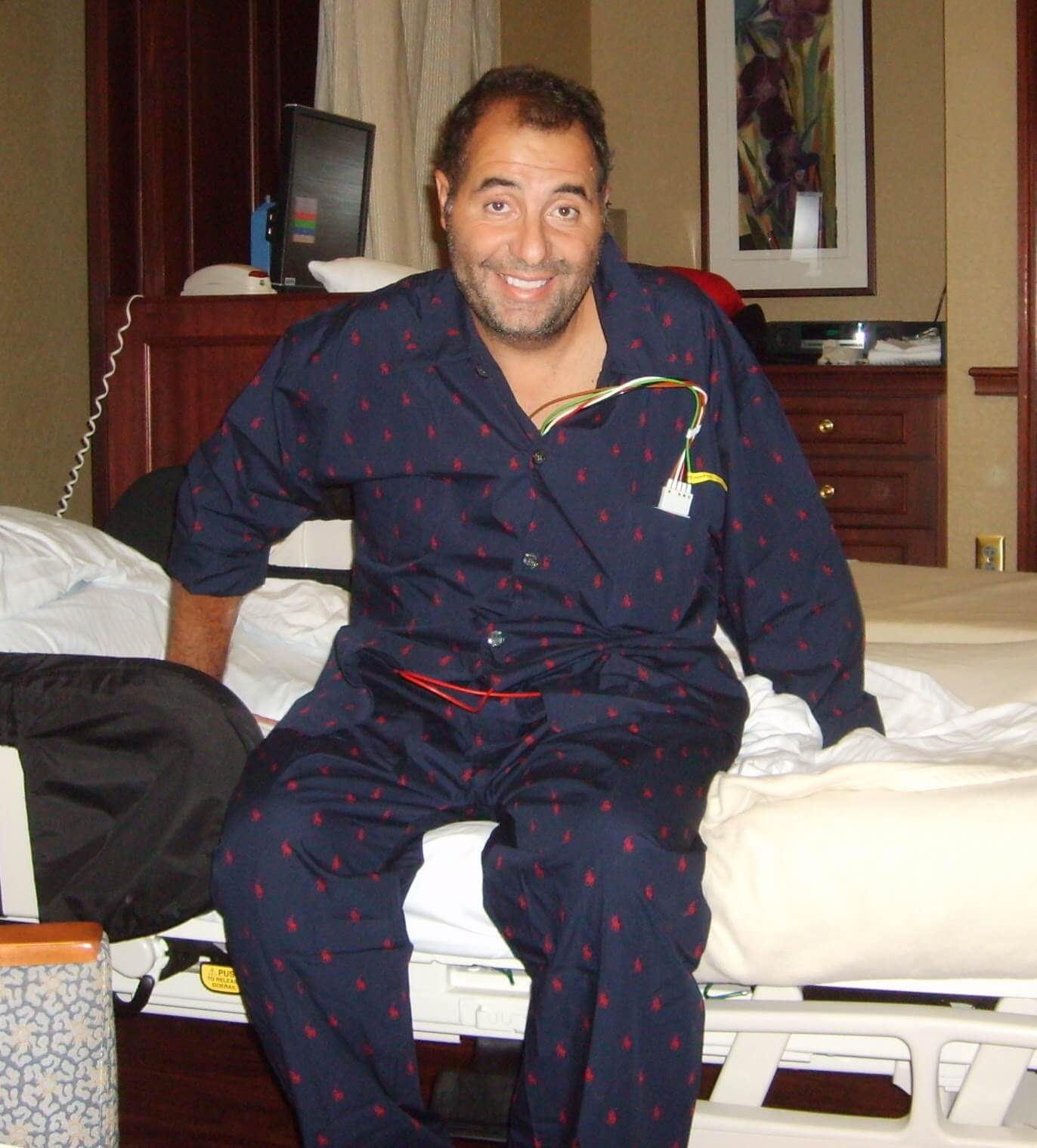 Back to Mayo Clinic
In 2008, Nick accompanied Eva to a doctor appointment…During the appointment, Nick mentioned that he had been experiencing lung congestion. As it turns out, his heart was leaking fluid and Nick underwent a 14 hour heart operation at Mayo Clinic. Eva believes that Nick is like a cat and has 9 lives.
21 of 26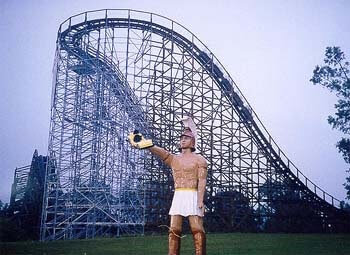 Indian Statue Icon
The Indian statue icon from Big Chief Go Karts was salvaged and redesigned into a Trojan and has been moved throughout the parks and is now located by Poseiden's Rage Wave Pool.
Nick and Eva continued to purchase properties along the Wisconsin Dells Strip, bringing the room count to 952 rooms and 70 campsites.
22 of 26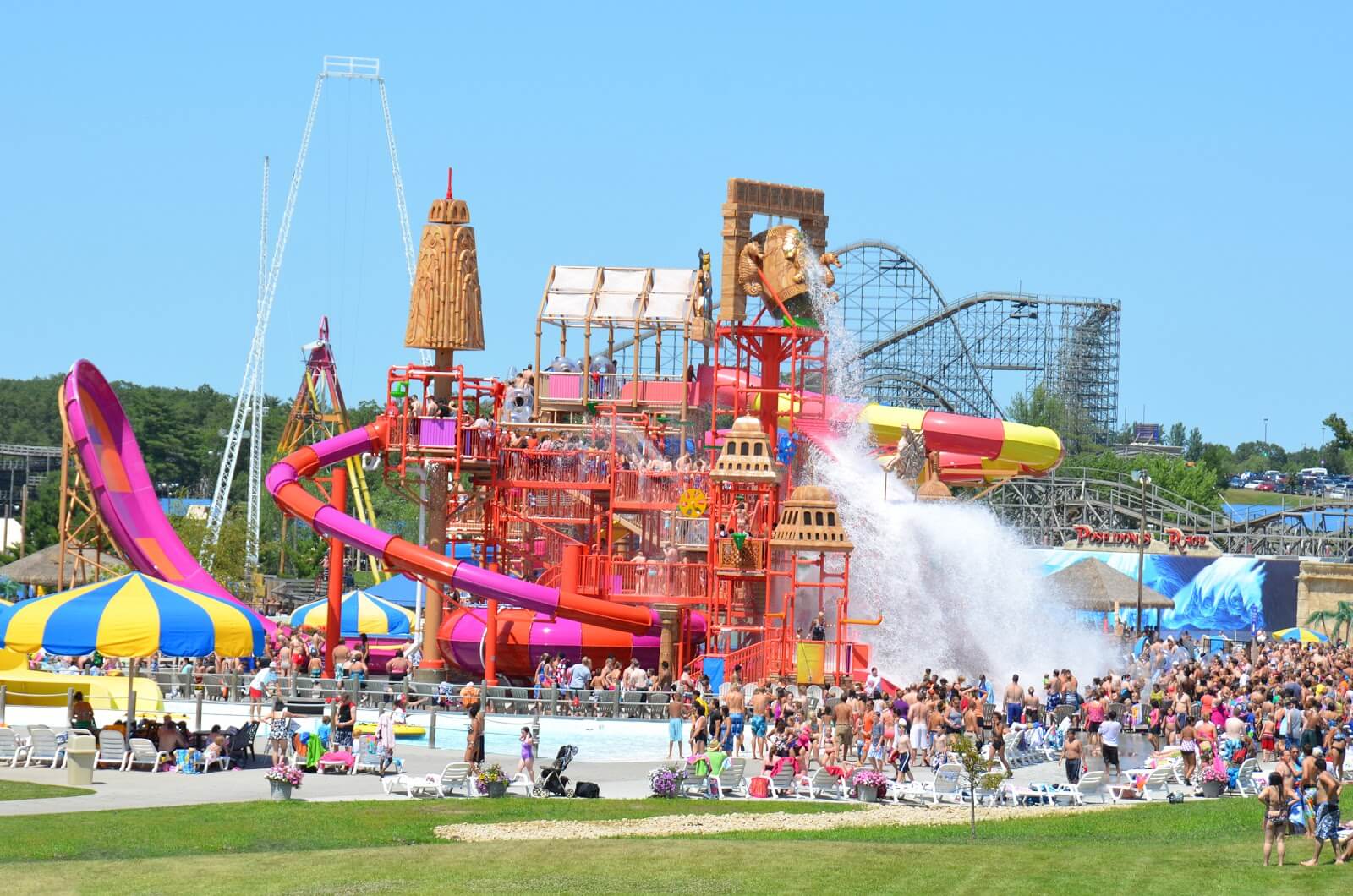 The Lost City of Atlantis
In 2012, they opened the Lost City of Atlantis, a three-acre outdoor waterpark area.
23 of 26
Hades 360
Hades was revamped in 2013. A 360 degree upside-down barrel roll & 110-degree turn was added.
From 2013 – today there have been many properties purchased with the goal of increasing our room count. In 2015 the Manticore, a 140 foot tall swing was added to the outdoor theme park. In 2016 the Great Pool of Delphi was added, featuring 27,000 Sqft of Swimming Area and 60,000 total Sqft of Deck and Pool Area – By Far The Largest Swimming Pool In Wisconsin Dells!
24 of 26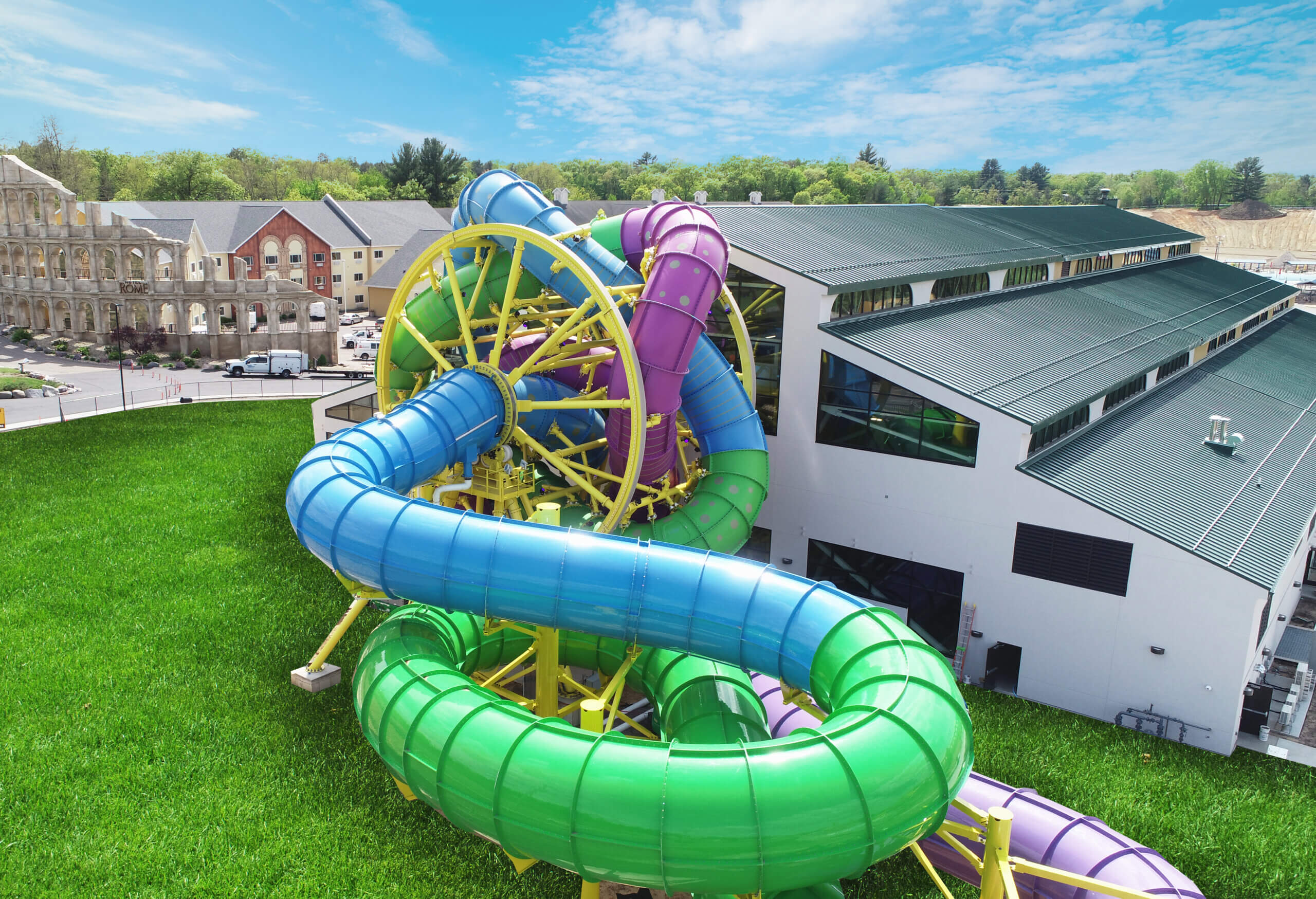 America's First Rotating Waterslide!
The time has finally come! After years of planning, Mt. Olympus' Indoor Water Park expansion opened summer of 2022. This expansion added an additional 22,500 square feet of water park fun, including America's first rotating waterslide!
Medusa's Slidewheel is a whole new element of indoor water park excitement above all else for guests to experience year round! This new attraction combines the movement of a ferris wheel and the speed and thrill of a waterslide. Medusa's Slidewheel offers all the best aspects of a classic waterslide, like speed, g-forces, and even the occasional bit of air time, but its rotation brings so much more to the table. Thanks to the pendulum movement, rotation and back-and-forth motions, the slide experience is like none other ever before!
25 of 26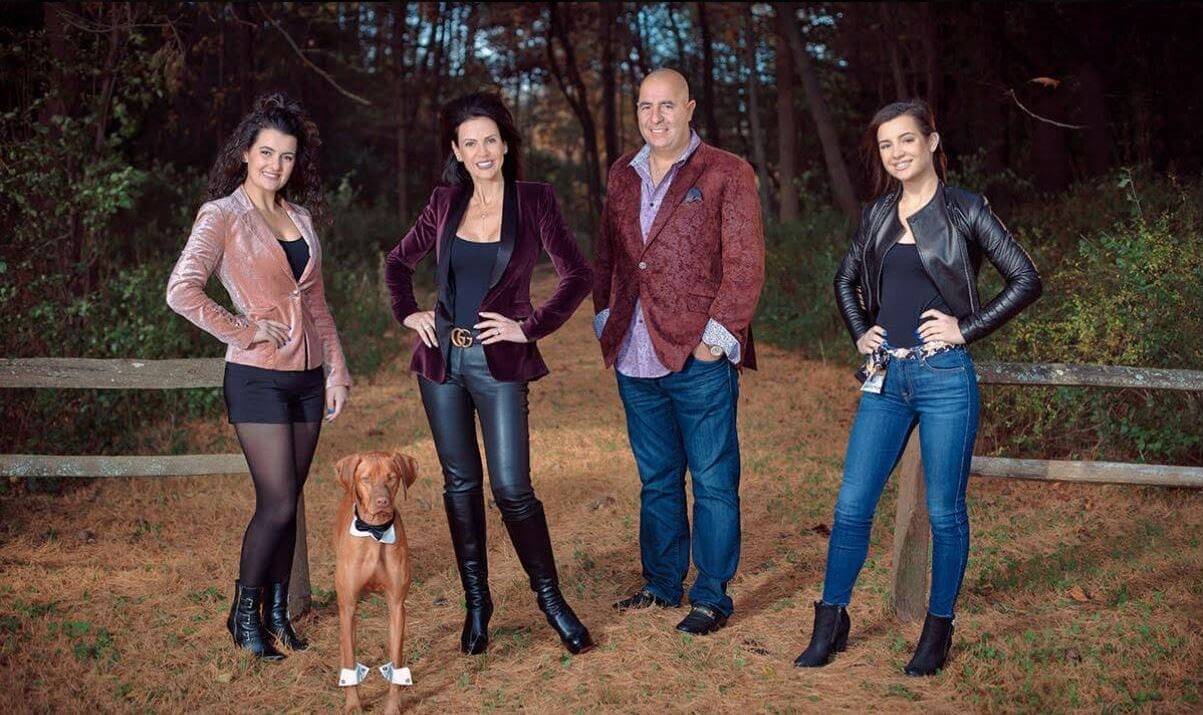 Where We Are Now
Today Mt. Olympus is one of the largest resorts in Wisconsin Dells, with over 1,600 rooms between Hotel Rome, resort rooms, cabins, and tents where all overnight guests play for free. The parks have grown to feature countless indoor and outdoor water slides, 5 hair raising rollercoasters, 2 wave pools, endless lazy rivers, numerous kiddie attractions and water play areas, and so much more!
26 of 26