Top 3 Thrilling Indoor Theme Park Rides
By Vector & Ink • March 10, 2015
Whether you seek adventure, are a competitive player, or like to have an all-around fun time, the Parthenon Indoor Theme Park at Mt. Olympus Resorts has rides and attractions for kids and adults of all skill levels. With bumper cars, lazer tag, an alien ball pit, arcade, and many other rides available all under one roof, there are hours and hours of fun to be had at Mt. Olympus Indoor Theme Park. If thrill and excitement are what you're into, we've put together a list of the top 3 rides for you to enjoy at Mt. Olympus' Indoor Theme Park.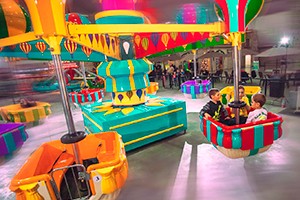 1) Go-Karts
Bring out your competitive side and race your friends on the Indoor Go-Kart Track. Test your driving skills and have fun doing it. Take care of your need for speed and take a drive on the Go-Karts at Mt. Olympus.
2) Spring Ride
Want to experience weightlessness? Then the Spring Ride is for you. After strapping into the seat, this ride slowly ascends to the top of the ride tower before dropping to a heart-pounding stop. This happens multiple times before slowly bringing you back safely to the ground. If you enjoy heightened adventure, then the Spring Ride is for you.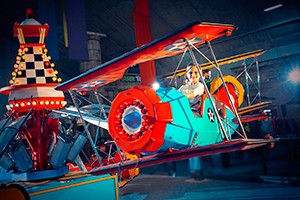 3) Bi Plane Ride

For the little ones, nothing says excitement more than the Bi Plane Ride! Zooming through the air around and around, your kiddos will feel the rush of piloting their own aircraft. Feel the wind in your hair as you fly your way to the Bi Plane Ride when visiting the Parthenon Indoor Theme Park.
As always, admission to Mt. Olympus' Indoor Theme Park as well as their Indoor Waterpark is always free with your stay, plus you get the day of Check-out. Book your trip today!