Puerto Rico
BE PART OF OUR OLYMPIAN ADVENTURE AND START YOUR CAREER AT MT. OLYMPUS RESORTS
WHO WE ARE AND WHAT WE ARE SEEKING
We are the world's largest water and theme park resort – offering ten times more fun than any other water and theme park resort.
We've got rollercoasters, go-karts, wave pools, speed slides, kiddie rides, hot tubs, over 1600 hotel rooms and so much more. Come see why over 15 million guests visited Mt. Olympus Water and Theme Park Resort in 2016 alone!
We are currently seeking customer service representatives, reservation sales associates, front desk associates, room attendants, laundry attendants, hotel general cleaners, maintenance workers, and night runners.
Although the position offered is full-time and year-round, Mt. Olympus requires a six-month guarantee of employment. Relocation assistance will be discussed during the interview, but is dependent upon completion of the six-month guarantee of employment.
Please visit www.mtolympuspark.com/employment for available positions.
REQUIRED:
To be considered for a position with Mt. Olympus Resorts, you will need to provide us with a copy of your Certificado de Antecedentes, dated within the last six months. Please bring the copy to your interview.
ENGLISH SKILLS
Mt. Olympus requires those people in some positions to have average-to-above average English skills.
Customer service representatives, reservation sales associates, and front desk associatesmust have exceptional English skills.
Housekeepers must be able to communicate in English.
PAY SCALE & BENEFITS
All positions start at $10.00/hr with the possibility of an increase with evaluation after 90 days.
Additional benefits include:
Mt. Olympus housing available through March 31, 2019 with continued employment in good standing. Housing cost is $65.00 per week.
25% discount on food/beverage and retail items. Room discounts vary depending upon season, availability and room style
Play in the parks for free as availability allows
Verizon Wireless discounts
Accrued paid time off available to redeem after 1 year of employment
Medical, dental and vision after 60 days
Promotion from within
401(k) after one year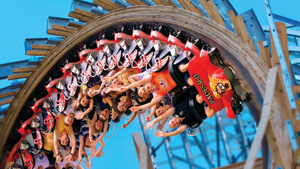 Rollercoasters
5 Hair-Raising Rollercoasters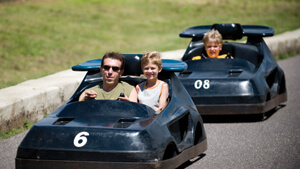 Go-Karts
7 Winding Go-Kart Tracks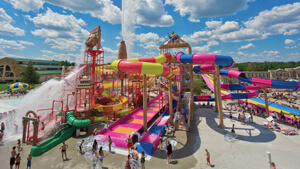 Outdoor Water Park
Steep and slippery slides, including the Lost City of Atlantis, the Midwest's largest water play structure, Poseidon's Rage Surf Pool – with waves up to 9 feet tall, the Great Pool of Delphi – the largest swimming pool in Wisconsin Dells, endless river, kiddie play areas and more!